Monday, September 3, 2012
Membuat jaringan LAN antar 2 Komputer
Kali ini gw mau coba nulis cara setting " lokal area connection " antar 2 komputer, hahay mudah2an tulisan gw bener pas elu praktekin
Ok langsung aja, gini cara settting networknya
gw berharap elu dah siapin kabel buat nge-LAn
elu juga udah ada 2 komputer yang mau di LAn
kalau elu pake Windows XP,buka Control Panel »»
Network and Internet Connections »» Network Connections.
elu pake Windows 7 atau Vista, buka Control Panel.
Pada icon Network and Internet,
klik tulisan View Networks Status and Task.
Selanjutnya akan muncul jendela Networks and Sharing Center.
Pada sisi sebelah kiri jendela ini,
klik tulisan Change Adapter Setting
Klik kanan pada Networkd Card Anda dan pilih properties.
Pada jendela Local Area Connection Properties,
pilih Internet Protocol (TCP/IP) pada Windows XP
atau Internet Protocol Version 4 (TCP/IPv4) pada Windows 7 dan Vista.
Kemudian klik tombol properties.
ada jendela properties yang muncul,
pilih opsi Use the followinf IP Address dan isikan dengan 192.168.0.1
pada IP Adrees, 255.255.255.0 pada Subnetmask.
Input yang tersisa bisa Anda kosongkan.
Klik OK untuk menyimpan setting dan klik tombol OK juga pada
Local Area Connection Properties
Nah…ngak cukup sampe situ aja gan,
kalau elu mau ada hubungan khusus antar 2 komputer layaknya suami istri caranya adalah sbb:
Untuk pengguna Windows XP, bukalah system Properties dengan
mengklik kanan icon My Computer dan pilih properties.
Anda juga menekan tombol kombinasi keyboard Win + Break.
Bagi Anda pengguna windows 7, caranya sedikit sama yaitu
buka system properties dengan cara seperti pada windows XP.
Pada jendela yang muncul klik tulisan Change Setting pada bagian
Computer name, domain, and workgroup setting.
Pada jendela System Properties, baik Windows XP,
Vista ataupun Windows 7, klik tombol Change.
Di jendela berikutnya berikan nama untuk komputer 1 dengan nama yang diinginkan.
Misalkan DK-1. Dan berikan nama dari workgroup Anda. Contonya Dunia Komputer.
Agar perubahan yang baru elu lakuin berpengaruh pada system maka diperlukan proses restart. Untuk itu retart komputer elu. Lakukan langkah-langkah yang sama dengan diatas untuk melakukan
konfigurasi Network Card dan merubah nama komputer serta workgroup pada komputer kedua. Namun, bedanya pada komputer 2, IP address yang diberikan adalah 192.168.0.2.
Subnetmask sama yaitu 255.255.255.0. Sedangkan Nama komputer harus berbeda. Misalkan berikan nama DK-2. Namun, workgroup haruslah sama.
Untuk mengetahui apakah kedua komputer tersebut sudah terhubung
lakukanlanh ping dari komputer 1 ke komputer 2 atau sebaliknya. Caranya sebagia berikut:
Buka Command Prompt dengan menekan tombol keyboard Win + R.
Pada CMD ketik perintah "ping IP Address".
Ip Addrees diisi dengan IP komputer yang ingin di ping.
Jika Anda melakukan ping dari komputer 1,
maka IP address diisi dengan IP komputer 2.
Begitu juga sebaliknya. Contoh perintah ping dari komputer 1 ke komputer 2
Contohnya : ping 192.168.0.2
jika koneksi antar kedua komputer tersebut berhasil maka hasilnya akan seperti ini:
Pinging 192.168.0.2 with 32 bytes of data:
Reply from 192.168.0.2: bytes=32 time<1ms TTL=128
Reply from 192.168.0.2: bytes=32 time<1ms TTL=128
Reply from 192.168.0.2: bytes=32 time<1ms TTL=128
Reply from 192.168.0.2: bytes=32 time<1ms TTL=128
Ping statistics for 192.168.0.2:
Packets: Sent = 4, Received = 4, Lost = 0 (0% loss),
Approximate round trip times in milli-seconds:
Minimum = 0ms, Maximum = 0ms, Average = 0ms
4. Jika hasilnya seperti ini:
Pinging 192.168.0.2 with 32 bytes of data:
Request time out
Request time out
Request time out
Request time out
Ping statistics for 192.168.0.2:
Packets: Sent = 4, Received = 0, Lost = 4 (100% loss)
Naah…Berarti kedua komputer tersebut belum terkoneksi.
Cobalah memeriksa apakah kabel sudah terhubung dengan benar atau
mungkin saja ada kabel yang putus.
Sekian dan terimaksih….:)
»»  READMORE...
Diposkan oleh

risyad pahlevi
di 4:52 PM
0 komentar


Saturday, September 1, 2012
About Hash Kracker
| | |
| --- | --- |
| | Hash Kracker is the free all-in-one tool to recover the hash password for multiple hash types. You can use this one tool to recover password for popular hash types such as MD5, SHA1, SHA256, SHA384, SHA512. |
It uses dictionary based cracking method which makes the cracking operation simple and easier. You can find good collection of password dictionaries (also called wordlist) here & here
Though it supports only Dictinary Crack method, you can easily use tools like Crunch, Cupp to generate brute-force based or any custom password list file and then use it with 'Hash Kracker'.

Hash Kracker is fully portable tool and also comes with installer to support local installation & un-installation.
It works on wide range of platforms starting from Windows XP to Windows 8.

Features
Here are the main features of Hash Kracker
Free tool to recover the hash password
Supports popular hash types such as MD5, SHA1, SHA256, SHA384, SHA512.
Automatically detects the Hash Type
Displays detailed statistics during Cracking operation
Stop the password cracking operation any time.
Easier and Quicker to use with cool interface.
Generate Hash Password Recovery report in HTML/XML/TEXT format.
Fully Portable tool, can run from anywhere.
Includes Installer for local Installation & Uninstallation.

Installation & Un-installation
HashKracker comes with Installer to help in local installation & un-installation. This installer has intuitive wizard which guides you through series of steps in completion of installation.
At any point of time, you can uninstall the product using the Uninstaller located at following location (by default)
[Windows 32 bit]
C:\Program Files\SecurityXploded\HashKracker

[Windows 64 bit]
C:\Program Files (x86)\SecurityXploded\HashKracker
How to use Hash Kracker?
It is very easy to use tool for any generation of users.

Here are simple steps
Launch Hash Kracker on your system after installation.
Enter the hash text (md5/sha1/sha256/sha384/sha512) for which you want to recover the password.
It will automatically display Hash Type for entered hash text.
Next select the password dictionary file by clicking on Browse button or simply drag & drop it. You can find a sample dictionary file in the installed location.
Finally click on 'Start Crack' to start the Hash Password recovery.
During the operation, you will see all statistics being displayed on the screen. Message box will be displayed on success.
At the end, you can generate detailed report in HTML/XML/Text format by clicking on 'Report' button and then select the type of file from the drop down box of 'Save File Dialog'.

Screenshots
Here are the screenshots of Hash Kracker
Screenshot 1: Hash Kracker is showing the recovered Password for SHA256 hash text.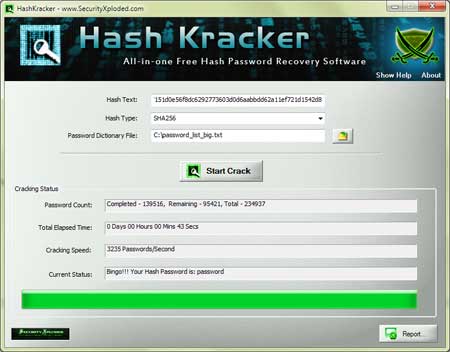 Screenshot 2: Detailed Hash Password Recovery report generated by HashKracker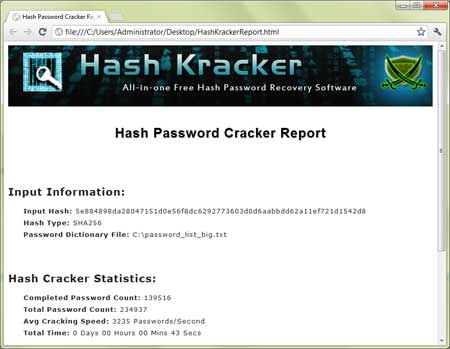 Test Results
HashKracker is successfully tested on Windows XP to latest operating system, Windows 8.
It can recover the hash password successfully for MD5/SHA1/SHA256/SHA384/SHA512 hash data.
Disclaimer
HashKracker is designed with good intention to recover the Lost Password.
Like any other tool its use either good or bad, depends upon the user who uses it. However neither author nor SecurityXploded is in anyway responsible for damages or impact caused due to misuse of HashKracker.

Read our complete 'License & Disclaimer' policy here.
Release History
Version 1.1: 13th Aug 2012
Fixed bug in processing Hash input.
Version 1.0: 16th July 2012
First public release of Hash Kracker.
Download HashKracker
»»  READMORE...
Diposkan oleh

risyad pahlevi
di 10:31 PM
0 komentar